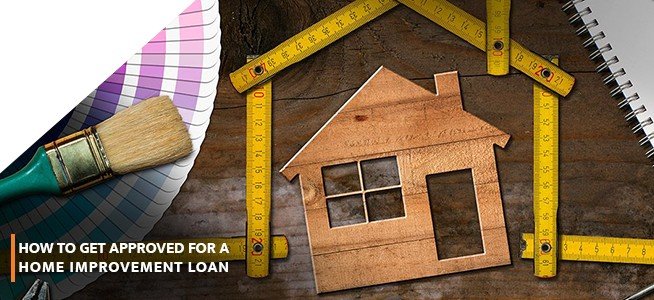 Individuals need to have adequate capital to give their old, dull houses a new look and adorn it with new amenities, features, and colors. With a home improvement loan, they can easily manage the required funds for this redesigning purpose. This is a variant of the personal loan extended by lenders, especially for the purpose of home remodeling. 
This credit facility comes with zero restriction of end-usage, thereby enabling borrowers to meet the expenses of raw materials, contractor's charges, etc.
Steps To Obtain A Home Improvement Loan
Individuals need to follow the steps mentioned below to apply for this personal loan variant:
Step 1: Form fill-up
At this first stage, individuals need to find a suitable lending institution and visit its website to get the application form for a home renovation loans. Accessing the form, they need to enter the required information, including their personal, income, and professional details along with the amount they want to borrow.
Step 2: Document verification
After receiving the application form, lending institutions complete their initial verification and contact willing borrowers to instruct them about submitting the necessary documents. These include their KYC documents, employee ID card, and bank account statement. 
Step 3: Background checking procedure
Lending institutions investigate their borrower's credit history and background to ensure that they are credible customers who will not default on EMI. For this, they check the applicants' repayment history and CIBIL score.
In this regard, having a healthy CIBIL score above or equal to the benchmark of 750 is essential for this home renovation loan. So, individuals may need to know how they can get a personal loan with a poor credit score.
Step 4: Payment of processing fees
After the former stages are complete, lending institutions instruct their customers to pay the processing fees for their loans. Nevertheless, individuals also need to keep in mind several other charges associated with the personal loan, as these significantly increase the overall cost of borrowing.
Step 5: Sanction of the loan
At this stage, lending institutions prepare the loan approval letter that mentions every detail of the debt, including the applicable interest rate, tenor, charges, credit amount, etc. borrowers need to carefully scrutinise all these details before putting their signature on it. After that, they need to resubmit the signed letter to the lender. 
Step 6: Loan disbursal
At this last stage, lending institutions sanction the credit amount and disburse it directly to borrowers' savings accounts. Thereafter, individuals can utilize the amount for any purpose they prefer.
Eligibility Criteria To Apply For A Home Improvement Loan
Individuals need to meet the following parameters to get this credit facility without difficulty:
They must be Indian citizens.

Their age needs to be in the range of 21 to 67 years.

They need to have a CIBIL score of at least 750.
Besides the eligibility standards, individuals also need to know the aspects they must consider while opting for credit through this variant of personal loan.
Things to keep in mind while opting for a home Improvement loan
Individuals need to carefully check the following aspects while opting for this personal loan:
Before taking the loan, willing borrowers need to estimate the probable expenditure of renovating their houses. This way, they can apply for the right credit amount and avoid the chances of over or insufficient borrowing. 
Interest rate and the applicable charges
Individuals need to ensure that the personal loan interest and the associated charges are aligned with the market average or lower than that. It will help them keep the cost of borrowing to a minimum.
Intending borrowers also need to confirm that the repayment period they choose gives them a manageable instalment amount. This way, they can ensure that it does not become a stressful affair. In this regard, individuals need to know how they can find the right personal loan tenor that works for them.
Apart from this, some lending institutions also extend pre-approved offers to their customers to help them get the required financial assistance quicker. They provide these special loan offers on their financial products like personal loans, business loans and credit cards. By accepting these special deals, customers can significantly quicken their loan application process. They can check their pre-approved offers by mentioning their names and contact details.
In conclusion, a home renovation loan lets individuals fulfill the objective of redesigning their home interiors and exteriors and installing new amenities without worrying funds finance. With this credit option, they can get adequate financing for buying raw materials and pay the charges of designers and contractors.